What is Roof Soft Washing?
Make your roof look new again! Full Force Exteriors uses our soft washing technology to restore the quality and appearance of your roofing. It's the safest way to remove mold, dirt, bird droppings, mildew, and more from each and every shingle – without posing a threat to the quality of your home. Combining effective cleaning solutions with a detail-oriented soft washing method, our team will restore your roof to just like new. We will gently but effectively kill and wash away mold, mildew, bacteria, algae, fungus, moss and more on your roof.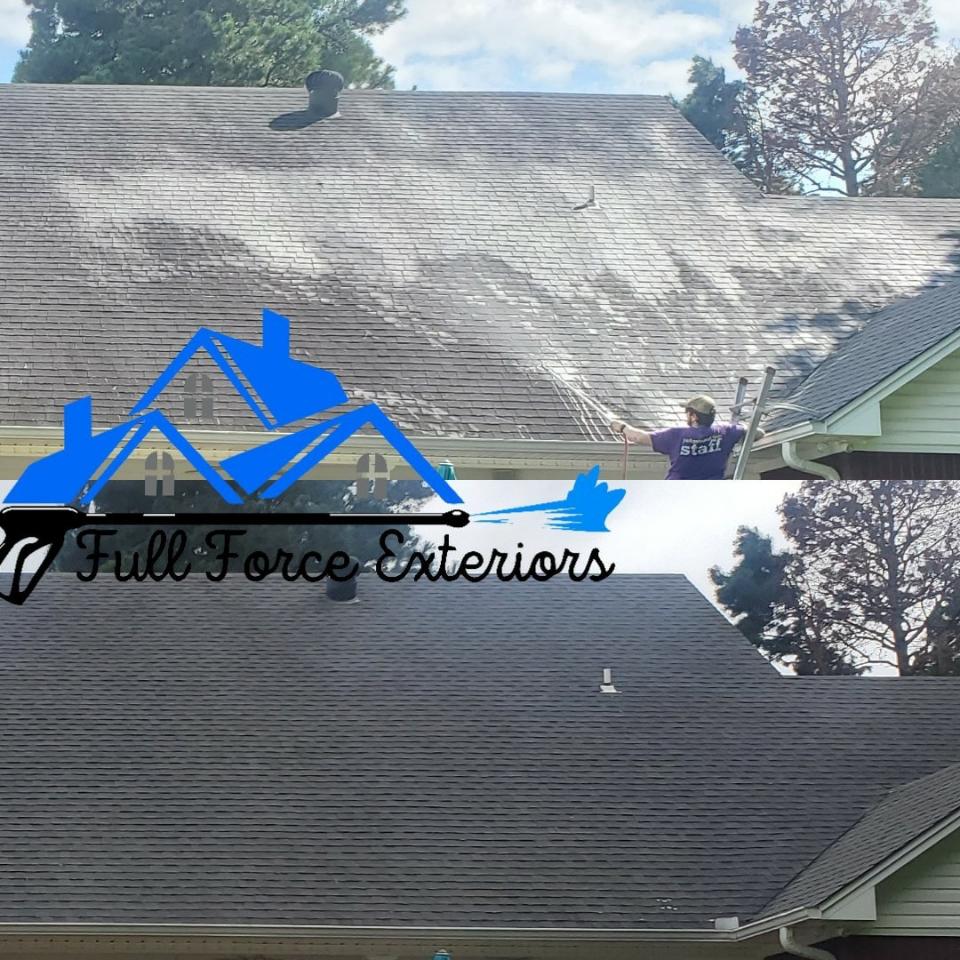 Roofs are damaged by buildup
Gloeocapsa Magma (algae) is common usually on the north side roofs and often leaves signature black streaks all over your shingles. This substance thrives in humidity and hot temperatures and spreads out, having a destructive effect on your roof. It feeds off the moisture and limestone that certain types of shingles hold on to. While the roof is effected, it begins to lose its ability to reflect UV rays and eventually rots the shingles. This algae and other types of build-up often form on the north and west parts of roofs that are shaded or receive less sun.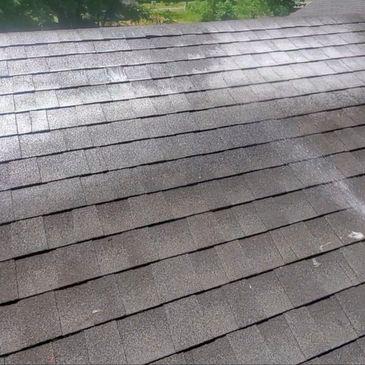 Soft Washing is the solution
Soft washing is the only way to effectively remove this without damaging the shingles and voiding any warranty. The presence of soot, dirt, or biomass have been said to effect roofs severely and can take up to 10 years off the life of a roof. Cleaning can extend the duration of a roof's ability to function. The Asphalt Roofing Manufacturers Association (ARMA) recommends having your asphalt shingle roof washed using our low pressure soft wash process in order to prevent damage to the shingles and to extend your roof's life and keep it looking top shape for many years to come.
DO NOT LET ANYONE PRESSURE WASH YOUR ROOF! IT WILL SEVERELY DAMAGE IT!
Click below to contact us for your free inspection
Contact Us